This professional software converts your videos into an artistic black and white videos with depth. Here, it gives you a professional toolbox of photographic tools to help you realize your monochrome visions.
High-tech black-and-white conversion!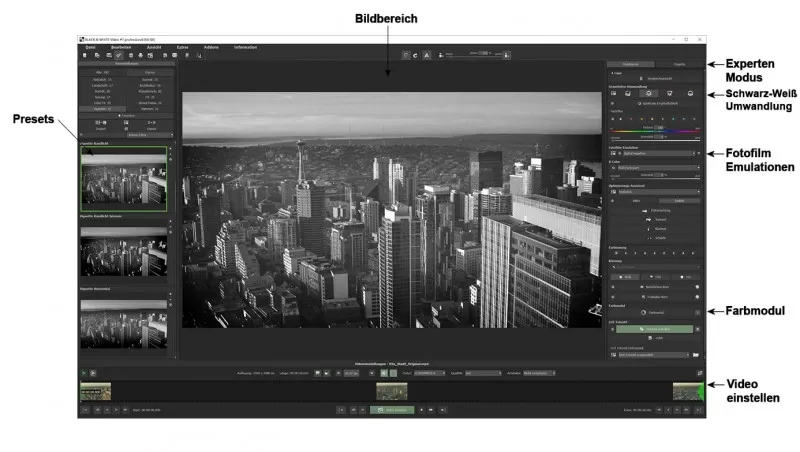 The black and white conversion creates a unique conversion of your color recordings into monochrome video worlds with 4 different color spaces and 13 adjustable spectral colors. It converts your videos into black and white recordings at the highest level.
Moreover, It allows you to choose 242 manually optimized templates in 12 categories, which you can place on your video with one click.
The easy way to professional results is with the Pro version!
Open the RAW module, straighten the horizon there, and correct perspective distortions as quickly as colors and exposure – or use a special effect such as haze and fog correction. In the LUT area, you can transfer image styles, e.g., contrast and color combinations, that you have seen in other images to your videos and thus create unique style and motif combinations.
Creative efficiency in black and white
Adjust the colors of your black and white videos in the new and Pro-exclusive real-time color engine – just the way you like it! If you want to modify a template or maybe create your creative template, switch to the expert mode, where you have 158 professional image filters in 7 categories (Masking,
Denoising/Sharpening, Geometry, Exposure, Color, Blur, and Artistic) at your disposal. These templates can quickly create an individual database with your styles.
Features of Franzis BLACK & WHITE Video #1 Professional
Load video formats: mpeg4 (h.264/h.265), wmv, webm, avi, flv, asf, mov, mkv, mxf, mp2
Save video formats: mpeg4 (h.264), avi (uncompressed)
58 photo film emulations
242 image filters in expert mode
Grain module
Video artifact reduction: 4 levels
Video mirroring/flip
Load / save projects
Undo function
Comparison view with the magnifying glass
RAW Development module
The real-time color engine in 10 levels
LUT photo styles support
242 templates (presets)
Unique black and white conversion in 4 color spaces and 13 spectral colors
Video artifact reduction in 4 levels
Extensive RAW module
Real-time color engine with 10 levels
System Requirements and Technical Details
Operating system: Windows 11/10/8.1 (64 Bit)
RAM: 4GB (8GB or more recommended)
Minimum: Intel I3 ( recommendedIntel I7 or comparable AMD processor)
DirectX-compatible graphics card
Screen resolution: 1600×900 or larger (Recommended 1920×1080 or greater)

password:
123